Consider Tile Roofs For New York City Property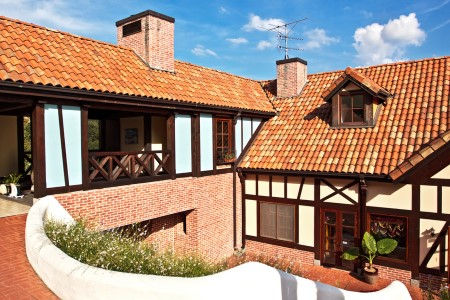 Tile roofs will always retain a certain level of popularity in the New York City area. For that reason, you need a certified New York City roofing contractor proficient with tile.
Too many new contractors have worked with materials that mirror the appearance of tile but aren't the real thing. To take care of repairs and other services for real tile, you need trained and experienced professionals.
ContractorsIn Roofing & Waterproofing is the trusted team and preferred company when it comes to all roof types, including tile roofs. From installation and inspections to repairs and replacement, we're the pros to contact. We offer top-notch tile roofing NYC, for which our clients love to recommend us.
Tile Roofing Advantages for Residential Homes
Tile roofs are nothing short of striking. They're stunning and steal the focal point of any neighboring home.
While being the envy of the neighbors may not be your motivation, having tile roofing comes with benefits, such as the visual aesthetics.
They're Durable
Increased Property Value
Unsurpassed Curb Appeal
Available Color & Styles
Ideal for Classic Architecture Styles
To give a new outlook to your housetop tile roofing is the best option you can opt for. Several tiles roofs services in NYC are there to guide you more in this matter
If you're looking for the lowest cost, asphalt shingles are more your style, and that's fine. The tradeoff for spending more upfront on tile roofing is the beauty and longevity you just can't accomplish with other roofing materials.
Although initially crafted by hand, most roofing tiles are now machine-made. You get fewer imperfections and a slightly lower cost, but the same beautiful finished look.
Using Tiles for Commercial Roofing
It's prevalent to find tile rooftops on commercial buildings, especially in historic districts. Original tile roofing can last a century or more, one of the main reasons business owners like having them.
The attractive appearance doesn't hurt either. Investing in your business with tile roofing is beneficial because:
Although the upfront cost is higher, the return on your investment is more significant.
The cost is also warranted due to the longevity in return. You can save money on asphalt shingles but get only about a fourth of the lifespan.
Tile is much more durable and rugged than people think. Only roofers seem to know just how sturdy a tile roofing system can be.
The maintenance requirements are minimal. Broken tiles can be repaired or replaced, but for a roofing system that lasts so long, the upkeep is minimal.
Tile is the perfect roofing material to withstand the elements. It's weather-resistant and can even stand up to hail.
Get in touch with our experts today and get the professionalism you need for tile roofs in New York City. We'll help you make good choices and be there to service any type of roof you get.