The Roofing Contractor in Brooklyn That You Can Trust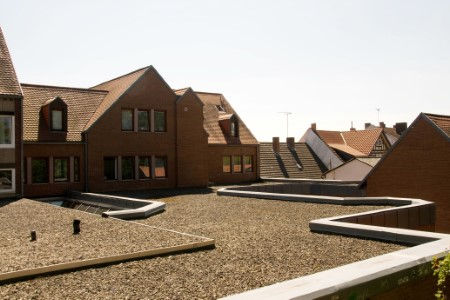 Research indicates that property owners who already have a Brooklyn roofing contractor lined up for services are less likely to get stuck with shoddy work. A common mistake is waiting for an emergency to hire a roofer, but that leaves no time for proper screening.
You end up with the first company you get in touch with at whatever time of day or night it is and pay too much for inferior work. Stop this cycle by choosing a reputable local roofer before you have an emergency.
At ContractorsIn Roofing & Waterproofing, we've been providing high-quality scheduled and around the clock emergency service for our Brooklyn area customers since 2000. Now, we look forward to showing you what a difference quality truly makes.
Taking Care of Various Roof Types for Our Customers
Aside from our skilled workmanship and superior customer service, we're a preferred local Brooklyn company because we take care of a variety of roof types. We work with residential and commercial customers for assistance with the following styles of roofing:
Hot Roofing
Cold Roofing
Asphalt Shingles
Metal Roofing
Tile Roofs
Flat Roofing
EPDM Roofing
It can be challenging to find one contractor as well-versed in the many roof styles out there. Too often, contractors claim they can do the work but lack the training or experience needed to get the job done.
Your rooftop is too crucial to your home or business to take chances with. No matter what type of roofing system you have, you can rely on our pros to provide superior roofing work.
Finding the Right Contractor for Your Roofing Service
Whether you realize it yet or not, the roofing company you choose will be there to take care of a lot more than you realize. You'll need a professional roofer for services like:
New Construction Installation
Roof Replacement
Roofing Inspections
Roof Repairs
24/7 Emergency Repairs
Plus, we take care of services like siding and waterproofing. Inspections alone are supposed to happen twice a year, so you're going to be seeing a lot more of us than you may have realized.
The point is, if you don't take the time to research your roofer, you could end up building a relationship with an inferior roofing contractor. Or calling a new contractor each time, which is a waste of your time and money.
We're the preferred crew of experts because we care about the satisfaction of our customers. Get in touch with us today and find out for yourself what makes us the best local Brooklyn roofing contractor.
Reviews & Testimonials on ContractorsIn Roofing & Waterproofing in Brooklyn, NY
There are currently no reviews or testimonials for Brooklyn, NY. Check back soon!