EPDM Roofing Professionals Serving New York City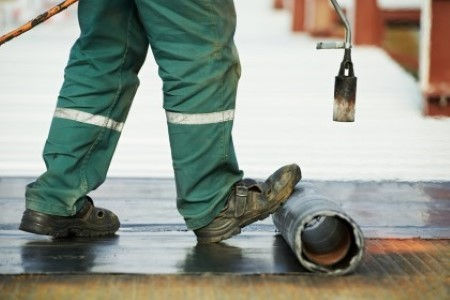 EPDM Roofing is affordable, durable, and eco-friendly at once. It is also referred to as rubber roofing and is commonly found on buildings in the New York City area. Such roofing coats the roof with a synthetic rubber membrane that lasts long and provides a smart look to the rooftop. When it comes to finding a professional to take care of installation and maintenance, ContractorsIn Roofing & Waterproofing is the preferred company. Considering the growing popularity of such a roofing system, we offer the finest EPDM Roofing services in NYC.
It's constructed from ethylene propylene diene terpolymer, or EPDM, a synthetic rubber membrane. This material is known for being exceptionally durable.
Ethylene and propylene are the two main ingredients, both of which are derived from oil and natural gas. EPDM roofing is an option that has become widely popular in this area, and throughout the country. It is considered as a smart and modern option for the roofing system in New York City
How Rubber Roofing Works for You
Before hiring a New York City roofing contractor to install your EPDM roofing, it's important to have some knowledge about this material. It's more than just hiring the crew that took care of your siding installation to take care of your EPDM rooftop.
The best thing you can do is to become an informed consumer so you can feel confident about the decision you make! Some reasons this roofing material and system is so frequently used:
Affordability
Fire-resistant
Greener/Eco-friendly
Longevity
Durable
Efficient
It's an ideal choice for rooftops with a low slope and helps keep your energy costs lower. The preferred color choice is black, although white can be used as well, and that helps with reflective qualities. It is also widely preferred by many for its resilient nature towards any kind of adverse weather condition. Many roofing companies nowadays offer the service of EPDM roof repair NYC. Choose your company wisely considering all of the necessary factors
It's also an ideal choice when you need a material that's adaptive to unique roofing shapes. It doesn't take much in the way of effort or materials to make EPDM roofing, plus it's 100% recyclable, just another reason this is the popular choice for consumers concerned about the environment.
Precautions About EPDM Roofing
As far as roofing options go, you'd be hard-pressed to beat the advantages of rubber roofing. However, to be fair, you should know some of the potential drawbacks so you can make a realistic decision about your rooftop.
The primary complaint consumers have is that it's not visually appealing. If you have a flat roof where it won't be seen, this is the ideal setting.
EPDM roofing can be fragile in the wrong setting. It also tends to become brittle by the end of its life cycle.
Too many contractors who claim to know how to install or maintain rubber roofing simply don't. Choose the pros you work with carefully.
By partnering with ContractorsIn Roofing & Waterproofing, you can rest assured you're getting reliable and skilled service. Contact us now for EPDM roofing in New York City by calling 917-224-3828.